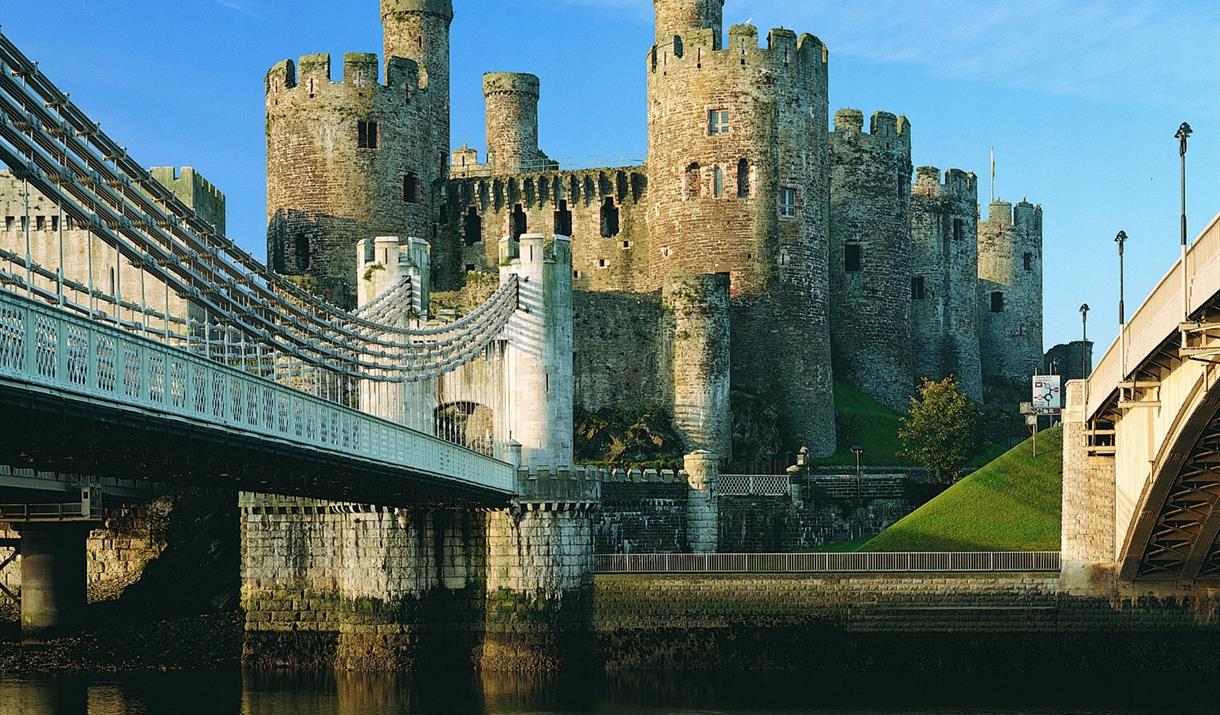 About
In a nutshell. Time travel has never been easier.
Conwy Castle's dark, brooding presence is no accident.
When King Edward I built Conwy Castle in the late 13th Century it was intended to dominate and intimidate - and it's still doing its job, competing with Snowdonia's rugged skyline and winning the battle for our attention.
Is there another castle in Wales that evokes the atmosphere of medieval times so well?
We don't think so ... And we think you'll agree when you clamber up to the towers that seem to spring naturally from the dark rock on which they were built.
There are eight in all, commanding breath-taking views across the estuary of the River Conwy and down into Conwy itself, huddled like a toy-town in the shadow of the fortress.
It's equally rewarding to peer inside the bones of the fortress itself.
Apart from the absence of roofs, the interior is largely intact, especially the grand 40m/130ft Great Hall and King's Apartments.
It's little wonder that Conwy Castle is up there with the great castles of medieval Europe.
The fortress is a World Heritage Site, along with Conwy's other exceptional historic glory - its three-quarter-mile ring of town walls, which completely enclose the original township of narrow streets.
Protected by no less than 21 towers and three gateways they are - like the castle - amongst the finest of their kind in Europe.
And the good news is that you can still follow in the footsteps of the guardians of old, for most of the wall walk is open to the public.
Please note: during extreme weather conditions we may need to close monuments at short notice, please check our social media channels before visiting to ensure the site is open and safe to visit.
Facilities
Accessibility
Assistance Dogs Permitted
Parking Areas for Disabled Visitors
Toilets for Disabled Visitors
Languages spoken
Parking & Transport
Accessible by public transport
Car parking
Payment Methods
Groups Accepted
Major credit cards accepted
Printed Material in other Languages
Provider Facilities
Accept coach parties
Cater for school groups
Shop
Toilets
Provider Features
In town/city centre
Outdoor Attraction
Target Markets
Family Fun
Marketed Towards Families
Tours and Demonstrations
Educational Visits Accepted
TripAdvisor
Map & Directions