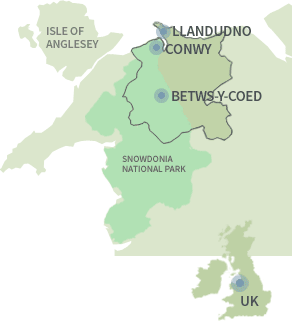 Coronavirus update
We want you to enjoy your time here in Conwy County. But we ask everyone who travels around Wales to respect our local communities and beautiful countryside. And to follow all safety rules to help prevent a new coronavirus crisis.
Face coverings must now be worn by people over 11 in all public indoor spaces
Face coverings will not be required in cafes, restaurants and pubs for the time being.
Only a maximum of 6 people from an extended household / bubble will be able to meet indoors at any one time. This rule applies to pubs, restaurants and cafes too.
Always observe 2m social distancing
Wash your hands regularly
Find out how to enjoy Conwy safely: Plan ahead.
---
Welcome to the official tourism website for Conwy County. Here, you'll find all the information you need to help you plan your next visit to Conwy; where Snowdonia meets the sea.
Our area stretches along the North Wales coast and spreads inland, down the Vale of Conwy. We're home to popular holiday resorts such as:
We have amazing Blue Flag beaches, the Llandudno cable cars and pier, excellent theatres, a fascinating zoo, first class golf courses, mighty big mountains and castles, amazing restaurants and pubs and an A to Z of outdoor activities.
And that's just for starters.
Our website covers art and culture too, as well as travel tips, tourist information, events and things to do. Plus, we have a wide range of places to stay. We have everything from luxury hotels to bed and breakfasts, self-catering cottages and great-value caravan parks.
We receive lots of visitors every year. In 2018, Conwy was the most visited county in North Wales. Our website will help you explore the best of North Wales, so you can find out why 9 million people choose to holiday here every year.
You'll find sandy beaches, water sports, walking trails, wildlife and tips on where to stay and shop.
In this part of the world, short breaks, holidays and things to do come in all shapes and sizes. So if you're planning a holiday, it's all here! Go on, take a look - you know you want to!