Paid promotion
Christmas and New Year may be just around the corner, but there's still time to plan a winter getaway in beautiful Conwy County. Here are a few ideas.
Let Petplace help you take good care of your furry friends over the festive season
Planning a last-minute Christmas or New Year getaway? Don't forget to lavish some special attention on your four-legged friends. We all know that fireworks can scare them, so it's best to keep them indoors after dark at this time of year, and prepare a safe place for them to hide. What else? Petplace in Abergele has lots of thoughtful advice, from ensuring your pets don't chew the wires of fairy lights, to resisting the temptation to feed them morsels that could disagree with them. Mince pies, chocolate, onion gravy, turkey bones and cheese are never a good idea, no matter what those pleading eyes seem to say.
The Petplace store in Abergele has loads of fun ideas for a last-minute gift. How about a smart new tartan coat for your dog, to jazz up your Boxing Day walk? Drop in to choose one, and you can both enjoy some Christmassy treats in the Dog Park and coffee shop.
Click here to find out more.
Give the gift of time at Adventure Parc Snowdonia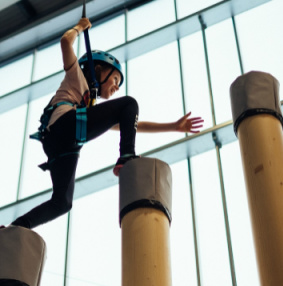 Here's another idea for an extra-special, last-minute present – in this case, for the fun-loving, outdoorsy humans in your life. Why not treat them to a voucher to spend on spa treatments, outdoor adventures, or an exciting, active break? If choosing the right gift for that certain someone can be challenging, this could be the perfect solution. Adventure Parc Snowdonia has a lovely way of putting it: "The answer, we believe, is time. Time reconnecting outdoors, time to relax, time to feel inspired and time to enjoy beautiful spaces with family or friends."
Adventure Parc Snowdonia offers Surf & Adventure gift vouchers for thrills such as lagoon surfing and outdoor climbing, along with Wave Garden Spa vouchers for the centre's carefully curated menu of wellness treatments. You could also throw in a Hilton Garden Inn Snowdonia voucher, redeemable as full or part payment against accommodation and food at Adventure Parc Snowdonia's fabulous, contemporary hotel.
Click here to find out more.
Polish up your puns on a laugh-out-loud stay at Stratford House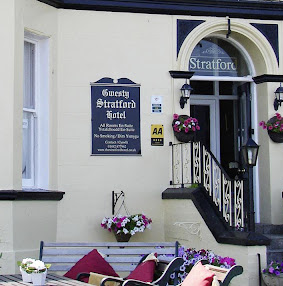 If you'll be in Conwy County during December and early January, there's still time to book tickets for a show. Oh yes there is! Funnyman John Evans and local star James Lusted are starring in Aladdin at Llandudno's Venue Cymru (venuecymru.co.uk) until 2 January 2022, and Goldilocks and the Three Bears are causing carefully choreographed chaos at Theatr Colwyn (theatrcolwyn.co.uk) in Colwyn Bay until 1 January 2022. For a pantomime with a difference, the 1950s Harlequin Puppet Theatre (puppetshow.info) in Rhos-on-Sea, Britain's first permanent marionette theatre, has its own special production of Aladdin: it's on from 26 December 2021 to 5 January 2022, daily at 3pm.
Well under ten minutes' walk from Venue Cymru and within easy driving distance of Rhos-on-Sea and Colwyn Bay, Stratford House in Llandudno would make a great place to stay. As a bonus, this superior B&B has a very tasty breakfast, served with style. Before you go in, don't forget to admire the beautiful bay. It's behind you!
Click here to find out more.
Join in a special celebration at the Imperial Hotel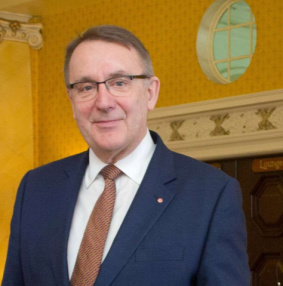 Congratulations to Geoff Lofthouse, who is celebrating 40 years as general manager of The Imperial Hotel in Llandudno, making him quite possibly the longest serving hotel manager in North Wales.
Not content with just running a large hotel, Geoff undertakes many fundraising initiatives, including cycling from London to Paris and from Land's End to John O'Groats to raise money for Diabetes UK, Dementia UK, Springboard, British Lung Foundation and Wales Air Ambulance to name just a few. Geoff also champions local businesses and supports local charities including St David's Hospice and Blind Veterans in Llandudno and Tŷ Gobaith Children's Hospice near Conwy.
On celebrating this milestone Geoff commented: "They always say time flies when you're having fun – and these 40 years have been a lot of fun! Operating a hotel during a pandemic has been challenging and my thanks have to go to all the staff, both past and present, for all their hard work and dedication."
Click here to find out more.
Escape to the Bodnant Estate in early 2022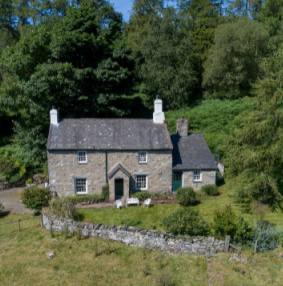 Have you ever got to the end of the festive season and thought: you know what, I deserve another break, and soon? We know the feeling. For the freedom to stretch out and relax in comfort and privacy, a few days away in a self-catering property is ideal.
The beautiful, historic Bodnant Estate offers ten charming, dog-friendly rural cottages for between two and 11 guests. Settle in, and you could spend your days kicking through the leaves in the estate's private woodlands or strolling along the county's best beaches, just a short drive away. With the Bodnant Welsh Food Centre right on the doorstep, stocking your kitchen with fresh local produce is a breeze. Plus, there's always the option of a gorgeous afternoon tea at the Pavilion and Magnolia tearooms in the world-famous Bodnant Garden, operated by the National Trust.
Click here to find out more.
Look forward to the first green shoots of spring at Bryn Derwen
Midwinter is fast approaching, but before you know it, the first snowdrops and crocuses will appear, a sign that we won't have much longer to wait for our all-time favourites, the daffodils. We love looking forward to those lighter, brighter days, with their promise of crisp morning walks and cosy afternoons.
Bryn Derwen, a peaceful Victorian villa in Llandudno's tree-lined Abbey Road, will be re-opening for bed and breakfast towards the end of winter, just in time for Valentine's Day and the February 2022 half-term holiday. With nine individually designed bedrooms, an elegant lounge and a walled garden, it's a lovely place to relax at this cheerful, optimistic time. If you reckon your nearest and dearest would love to stay here, why not buy them a gift voucher? Who knows, when they come to book, they might invite you along too.
Click here to find out more.
Related
0 Comments