With misty mornings, dewy grass and golden leaves, autumn is a beautiful time of year to stretch your legs in the great outdoors.
Fun for dogs on Pensarn Beach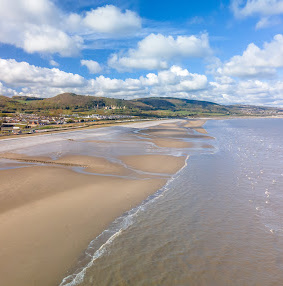 Autumn is every Conwy dog's favourite season. Why? Because it's back-to-the-beach time. From October to the end of April, the dog-exclusion rules that apply during the summer months on popular beaches such as Traeth Pensarn near Abergele are lifted, leaving our four-legged friends free to feel the sand beneath their paws.
So take them for a long, lovely stroll, let them off the lead and watch as they belt along the shore, bark at the waves and perhaps even go for a full-on paddle. Who knows – if the weather's mild enough, you could be tempted kick off your shoes and join them.
Click here for more information.
Delve into Colwyn Bay's fascinating past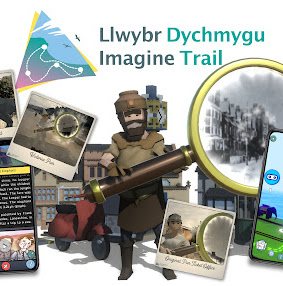 Launched in September 2021, the Imagine Trail (imaginetrail.com) leads you on a series of gentle adventures around Old Colwyn, Colwyn Bay, Mochdre and Rhos-on-Sea, soaking up all sorts of stories about the region's history and heritage. Did you know, for example, that a life-size mechanical elephant used to roll up and down the Colwyn Bay promenade?
Download the free Imagine Trail app to your smartphone and as you follow the routes, augmented reality effects, animated videos, sounds and snippets of narration will bring landmarks and memories to life. This imaginative, bilingual app was two years in the making, with 334 local people, including historians, artists and schoolchildren, pitching in.
Click here for more information.
Enjoy a Wonderland scavenger hunt in Llandudno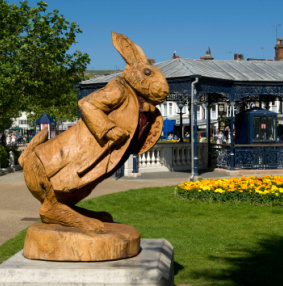 It was in 1862 that a little girl called Alice Pleasance Liddell – the youngster who inspired Alice in Wonderland – spent the first of many summer holidays at Penmorfa, her family's brand new Victorian Gothic mansion on Llandudno's West Shore. It's thought that Charles Dodgson (aka Lewis Carroll) used to visit the Liddells here, since Through the Looking Glass, the sequel to Alice's Adventures in Wonderland, is dotted with references to local landmarks. The two rocks out in the bay, for example, are nicknamed the Walrus and the Carpenter.
Sadly Penmorfa no longer exists, but Llandudno still cherishes its connections with Lewis Carroll's quirky tales, and a fun Alice in Wonderland walking trail (alicetowntrails.co.uk), marked by rabbit pawprints cast in bronze, leads through the town. If you'd like to make the most of it, buy a guide from Llandudno's Tourist Information Centre or from their online shop
Click here for more information.
Stroll along Lady Mary's Walk with Iolo Williams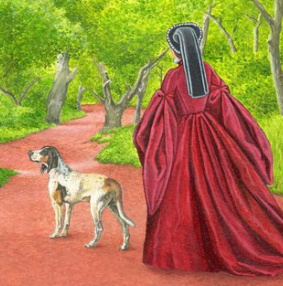 What could be more soothing than having top Welsh naturalist Iolo Williams speaking softly in your ear as you wander the banks of the River Conwy near the market town of Llanrwst? Iolo introduces the Lady Mary's Walk audio guide, available to download as an mp3. It features the story of the sixteen-year-old 17th century noblewoman Lady Mary Wynn of Gwydyr, whose father's country estate was, at around 80,000 acres, the largest in North Wales.
Leading through Gwydir Forest with its Llwybr y Ceirw Sculpture Trail and splendid views over Llanrwst, this moderate route is only 1.25 miles (2.1km) long. You could complete it in an hour, with the narration lasting 20 minutes.
Click here for more information.
Kick through the autumn leaves in Coed Shed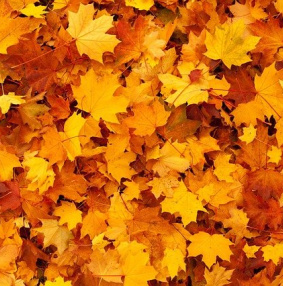 Starting from the village of Groes near the Denbighshire border in the east of Conwy County, the lovely circular walk to Coed Shed explores country lanes and pretty woodland paths. Coed Shed is an ancient, little-known seven-hectare wood full of deciduous trees that are absolutely gorgeous at this time of year.
The walk is around 1.5 miles (2.4km) long. It's easy going, but there are some steep slopes, so take care if it's been raining and allow at least an hour. If you're a keen wildlife-watcher or photographer, you're sure to want longer, perhaps returning at different times of day to catch the changing light.
Click here for more information.
Follow in the footsteps of local hero Huw Tom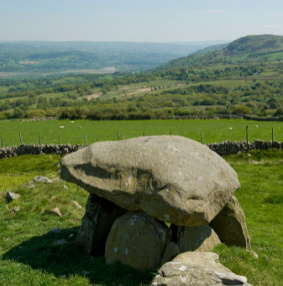 The Huw Tom Upland Walk is a moderate six-mile (9.6km) route leading south from Penmaenmawr on the North Wales coast, up over the foothills of Snowdonia, then down to the pretty village of Rowen in the Conwy Valley. The route is named after the celebrated 20th century politician, trade unionist and poet Huw Thomas Edwards, who was known as Huw Tom or Huw T. He chaired the Council for Wales and Monmouthshire in the 1940s and 50s, a post that earned him the unofficial title of Prime Minister of Wales.
Born in Rowen in 1892, Edwards left the village school, Ysgol Rowen, at the tender age of 14, in order to earn a wage at Graiglwyd Quarry in Penmaenmawr. He and many others from the village walked over the hills each morning, worked a full shift quarrying granite, then trekked all the way back. The waymarked path traces their homeward route. It's a proper country walk, with slopes to climb, stiles to clamber over and a stream to cross. The reward? Spectacular views of the Conwy Valley, Great Orme and Liverpool Bay.
Click here for more information.
Explore heather-clad moors on the Hiraethog Trail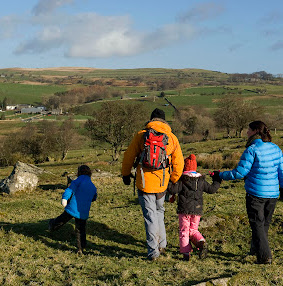 Are you ready for more of a challenge? The Hiraethog Trail, a long-distance country route curving northeast from the foothills of Snowdonia to Denbighshire, is perfect for walking holiday enthusiasts. It divides neatly into six sections taking between two and eight hours each: you could speed through all six on a long weekend break, or space them out over a week. Alternatively, for those who would prefer something shorter, there are circular routes to sample which are three to five miles long, taking two to four hours each.
Linking the villages of Pentrefoelas, Cerrigydrudion, Llangwm, Llanfihangel Glyn Myfr, Cyffylliog, Llanrhaeadr-yng-Nghinmeirch and Bodfari, the route crosses Mynydd Hiraethog (the Denbigh Moors), a region of lakes, uplands and shaded woodlands with great campsites, B&Bs and walker-friendly holiday cottages.
Click here for more information.
Related
0 Comments