Here in Conwy County, we're looking forward to a very Merry Christmas, or Nadolig Llawen, as we like to say! If you're still searching for that special something for a certain someone, our Tourist Information Centres and Online Shop can help. Why not drop in?
Celebrate the Welsh language this festive season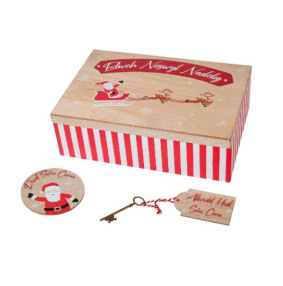 In Wales, our name for Father Christmas is Siôn Corn, which roughly translates as The Chimney Bloke! For a traditional start to that magical night when Siôn Corn arrives from Gwlad y Ceirw (Reindeer Land) with a sackful of gifts, why not present your family with a Blwch Noswydd Nadolig (Christmas Eve Box), filled with your own choice of sweets and treats? Our decorated wooden box (£17.99) comes with a coaster marked Diod Siôn Corn (A Drink for Santa) and a key labelled Allwed Hud Siôn Corn (Santa's Magic Key), just in case you don't have a chimney and Siôn Corn needs to sneak in some other way.
The Visit Conwy Tourist Information Centres and Online Shop have a lovely range of festive gifts and decorations saying Nadolig Llawen (Merry Christmas) – a cheerful way to wish your family and visitors the best of the season. Choose from bunting (£12.99), mugs (£8.99), illuminated cottages (£9.99) to hang on your tree, and comfy cushions (£13.99) featuring a friendly Welsh sheep dressed for the winter weather. We also have books for Welsh language learners (from £3.99).
Raise a glass (or a mug) to the spirit of Christmas in Wales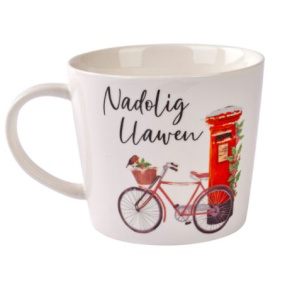 No festive celebration is complete without a toast. To make yours extra special, we offer slate coasters (£7.99) and a range of glasses for whisky, gin and beer (from £7.99), all decorated with Welsh dragons. Iechyd da!
If hot beverages are more your family's (ahem) cup of tea, we'd like to recommend Conwy's own Blighty Brew Organic Loose Leaf Tea (from £4.50), produced with only the finest quality and youngest orange pekoe or chunmee green tea leaves. If you haven't added a couple of Nadolig Llawen (Merry Christmas) mugs to your basket yet, now's the time! We also suggest you stock up on Paned Gymreig (Welsh Brew) tea bags (from £2.49), produced by a family business based in Mumbles, South Wales. They contain African and Indian teas, specially blended to perfectly complement Welsh water – though we daresay other water will do!
Treat them to something sweet and delicious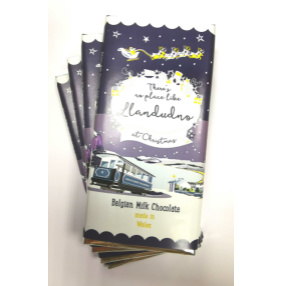 Chocolate lovers who are spending the festive season in Llandudno – or have happy memories of holidays here – are sure to be delighted with our There's No Place Like Llandudno At Christmas milk chocolate bars (£2.99), made in Wales to a Belgian recipe. The jaunty wrapper features a sketch of the Great Orme Tramway in the snow, with Siôn Corn and his reindeer flying overhead.
For a taste of Welsh history, how about a box of Aberffraw shortbread (£4.50)? Handmade to one of Britain's oldest biscuit recipes, these Great Taste award-winners shaped like scallop shells – just like 12th century Christian pilgrims used to make them. We also sell classic local treats such as Bray's Welsh toffee (£2.99), Welsh Lady jam (£2.99) and Tan y Castell welshcakes (£1.99), bara brith (£3.99) and shortbread (£1.99).
If you need a good excuse to tuck in, why not plan a brisk walk in our beautiful countryside? A Luxury Walkers' Hamper (£55.99) will suit the ramblers in your life down to the ground: it's stuffed with Tan y Castell biscuits, Welsh Brew tea bags and three handy Kittiwake guidebooks to the best walks in Conwy County, covering the coast, Conwy Valley and the foothills of Snowdonia. It also includes a Tweedmill Walker Companion picnic rug (normally £27.49, if bought separately), made in North Wales from machine-washable organic cotton with a waterproof backing, and designed to roll up neatly. Very handy.
Give a handcrafted gift that says I Love You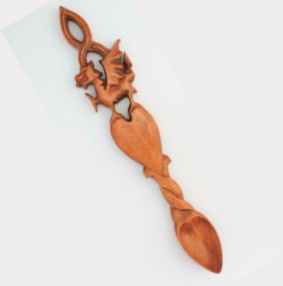 Carefully carved from a single piece of wood, Welsh love spoons make thoughtful presents that express more than words can say. In centuries past, when most young Welshmen were cash-poor and practical skills were highly prized, a gift of a beautifully made sycamore love spoon would often be enough to win a young woman's heart. Once the happy couple married, their spoon would be proudly displayed in their home, much like a wedding photograph would be today. These days, love spoons are not just offered as a romantic gesture: giving one as a gift is a lovely way to make anyone feel special, while celebrating a wonderful Celtic craft tradition. We offer several designs (from £16.99), handcrafted by Pageant Woodcrafts in Llanrwst on the River Conwy.
The Visit Conwy Tourist Information Centres and Online Shop also stock a romantic range of sterling silver and rose gold earrings and pendants (from £14.99) by Celtic and Welsh Jewellery, which is run by the Pratt family in South Wales. Then there are Pam Peters Designs' colourful fused-glass ornaments, handmade in Colwyn Bay by mother and daughter team Pam and Beth Peters. Cutest of all have to be their little green elves – just the thing to perk up anyone's Christmas tree.
Is that a goat in your stocking?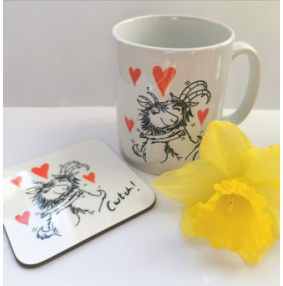 If your loved ones have a soft spot for the wild Kashmiri goats who live on Great Orme (and who rocketed to international fame during lockdown by strolling into Llandudno and nibbling the hedges), don't forget to include a Great Orme Goats gift in their Christmas stocking. They're sure to break into a smile. We love Mari Jones' Goats of Llandudno coasters (£4.99), mugs (£10.99) and tote bags (£13.99), featuring quirky goat cartoons by one of Mari's old schoolfriends, illustrator Lisa Williams, who's based in Rhôs-on-Sea. But the absolute best-sellers in our outrageously popular Great Orme Goats department are Bray's Great Orme Goat Doo-Doos (£2.99), chocolate-coated toffees inspired by you-know-what.
Other cute little Welsh goodies that would make great stocking-fillers include our ever-popular lovespoon magnets (£2.99), our dinky clamp-top jars of Halen Môn Sea Salt (£16.99), our cuddly red Welsh dragons (from £4) and perhaps a local-interest book or walking guide (from £3.50): just the thing to help them plan their next adventure here in Conwy County.
Related
0 Comments