Everyone's favourite spooky Welsh castle, complete with gruelling trials and mysterious shopkeeper, is back on ITV for the second year in a row – and we couldn't be more excited!
Paid promotion
Choose the Whitehouse Hotel for an all-action history tour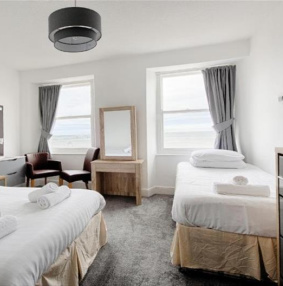 ITV's I'm A Celebrity... Get Me Out Of Here! – a cracker of a show that's been on air every year since 2002 – had its all-time second-highest viewing figures in 2020. Here in Conwy County, we reckon its splendid new location – Gwrych Castle near Abergele – clinched it. The 20-episode extravaganza, screened every night from mid-November to early December, attracted 14.3m viewers and was the most popular show of 2020 for young viewers. Can the 2021 series top that? We don't see why not!
Are you and your family big fans of the show? Of course you are. So why not recreate the fun on a castle-hopping tour of historic Conwy County? Gwrych Castle (gwrychcastle.co.uk) re-opens to the public in March 2022, and admission tickets, including annual passes, can be booked in advance online. In the meantime, there's Conwy Castle to explore – an absolute classic – and Conwy Town Walls. Together with the spectacular fortifications in Beaumaris, Caernarfon and Harlech, they're Unesco World Heritage listed. As for where to stay – comfortable, affordable and just the job for families, the Whitehouse Hotel in Llandudno, just five miles from Conwy Castle, would make a brilliant base for your epic adventure.
Click here to find out more.
Feel like the queen (or king) of the castle at Osborne House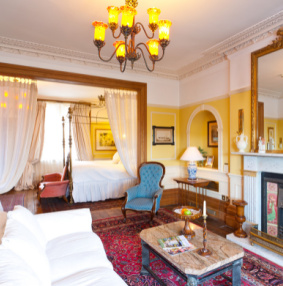 The lovely seaside town of Llandudno is less than 12 miles west of Abergele, where the contestants, presenters and 500-strong production crew set up camp in Gwrych Castle. Before, during and after the show, one of the biggest TV productions in Europe, locals from all over Conwy County, including Llandudno, get involved. Welsh businesses are hired to supply clothing, props and services, and the atmosphere in the region is incredible.
Keen to soak up the Get-Me-Out-Of-Here vibes, but more into the post-eviction luxury-hotel side of things than the slumming-it part? The smart move would be to book one of the seven opulent suites at Llandudno's Osborne House. With a candlelit café downstairs and wonderful views of Llandudno Bay – not to mention sumptuous, snuggly beds – it's a perfect place to escape to.
Click here to find out more.
Treat your feet at Elevate Your Sole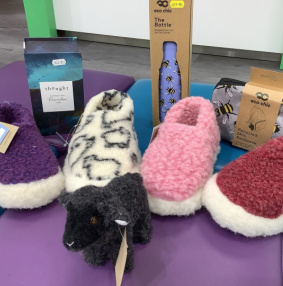 Much though we love Kiosk Cledwyn and his inscrutable ways, he's definitely one of a kind. In contrast, Abergele's real-life shopkeepers are all smiles, throwing themselves into the I'm a Celebrity mood with special window displays, offers and ideas.
"We are of course very excited to have the team back in the local area, and we can only hope that they find our little shoe shops!" says Nicola Hamon of Elevate Your Sole. "We have a variety of lined boots available which would keep their feet warm in the cold Welsh weather. We're especially excited about our bright and funky range of lace up military style boots which seem to be a style staple this year. For the evenings, we think they'd love our Yoko slippers. We've also got a fab range of scarves, bamboo socks and umbrellas, so we could definitely kit them out properly for their stay!"
Click here to find out more.
Enjoy a nature-inspired spa break at the Wave Garden Spa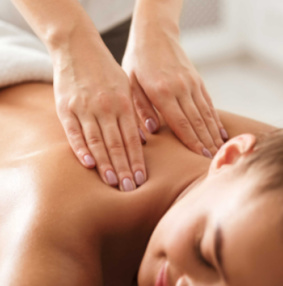 If, like the I'm A Celebrity contestants, you like to conquer your fears and test yourself to the limit, you'll know what a buzz that can bring. But there comes a time when you need to stop, relax and unwind. At the Wave Garden Spa, next door to the comfortable, contemporary Hilton Garden Inn Snowdonia, you can restore, replenish and reinvigorate. Even its views are refreshing, reaching across the waters of Adventure Parc Snowdonia's inland surf lagoon to the forests and mountains beyond.
The Hilton Garden Inn Snowdonia offers tailor-made autumn or winter spa stays, inspired by nature. You know that sublime feeling you get on the crest of a wave, at the summit of a mountaintop or deep within a thick forest? That's the blissed-out state of mind the Wave Garden Spa aims to recreate.
Click here to find out more.
Race into winter with Mynydd Sleddog Adventures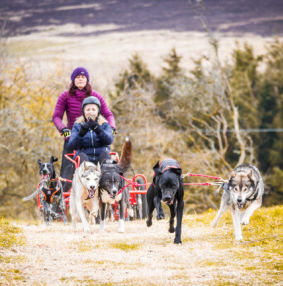 If anyone knows about the motivational value of teamwork, challenges and I'm-A-Celebrity-style treats, it's the dog-trainers at Mynydd Sleddog Adventures, who offer Wales' first and only husky rides and sled-dog experiences. "We are now coming into prime dog mushing season", says director Joe Swiffen. "Temperatures are finally dropping, so our dogs have been training hard and getting fit after their summer break."
"During summer we competed at a couple of championship shows with one of our pups, Xinaskyii's Hogyn Drwg. He won pretty much every show he entered and is now joining us on our runs in the forest. We are super excited about getting our yearlings out on the trails and introducing our newest addition – a Siberian husky pup from Norway – to everyone. We have already started running our six dog teams with passengers, and are looking forward to getting out more as winter sets in."
Click here to find out more.
Get ready for Christmas at Llandudno Hostel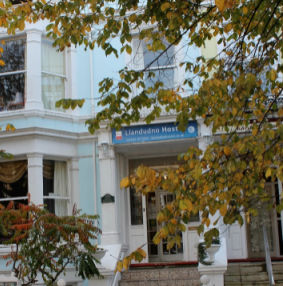 By the time I'm A Celebrity draws to a close in early December, we'll be well into the Christmas party season. But if you're quick, there's still time to book a fabulous festive break with your family and friends at Llandudno Hostel. It's available for Christmas and New Year house parties at a special last-minute sole-use rate of £750 per night, discounted from £1250, when you book at least three nights.
This characterful townhouse has all you need to create wonderful memories in the picturesque seaside town of Llandudno. There are 11 bedrooms (sleeping up to 49 guests), a dining room, bike shed, Wi-Fi and amazing self-catering facilities. If you'd prefer a catered service – or would just like help with reserving at turkey at Edwards of Conwy, the local butcher – the hostel will quote. Best of all, there's a comfy lounge: so make sure you have plenty of carrots, mince pies, brandy and Christmas stockings at the ready.
Click here to find out more.
Related
0 Comments